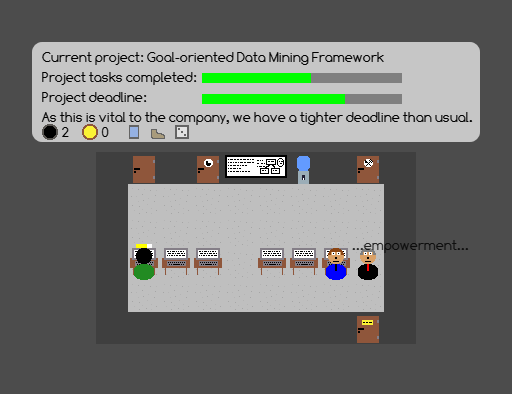 Published:
December 11, 2016
Event:
Ludum Dare 37
Theme:
One Room
Observe the numerous distractions provided by a shared one room office space.
Will your team persevere, despite constant phone calls, ambitious project deadlines, and wandering managers?
If your team delivers on time, they will unlock golden tokens of management esteem, which can be used to bury past mistakes, or to create a more pleasant work environment. And if you complete enough projects, your team will grow even larger.
Miss your deadlines however, and you will earn the ire and black marks of the management team instead. Five such marks, and your team will be disolved!
How many projects will your team survive under such conditions?
The game is an affectionate spoof on working in an open-plan office environment. This is an "indirect control" / "simulator" style game, where you do not control the office workers directly. However, you can unlock upgrades to the work-environment (and neutralize black marks) using the "golden markers" that your team earn for completing projects on time. To do so, click on an upgrade icon (costs 3 golden markers), or on the black mark icon (costs 2 golden markers). Press space to toggle accelerated game speed.
The game was made in Java, using the LibGDX framework. Java is required in order to run the game.